Buyers Guide
Everything you'll need to know & more
Buyers Guide
So, you're looking for your perfect hammock right? Well, you've come to the right place! Here at Simply Hammocks we are the experts and have a fantastic selection of hammocks of all shapes, sizes and styles. 
Where are you hanging it?
If you are looking to hang your hammock on a stand then check out our hammock sets or you can configure your own stand and hammock combination by using our Compatibility Guide. Our stands are all weatherproof and whether you go for a wooden or metal stand will come down to your budget.

If you are hanging the hammock between trees or walls then you will need to measure the space and ensure it is at least 2.5 - 6 meters wide. If you only have one tree or wall then you can use a Madera Post. You will also need fixings depending on how you are going to hang your hammock: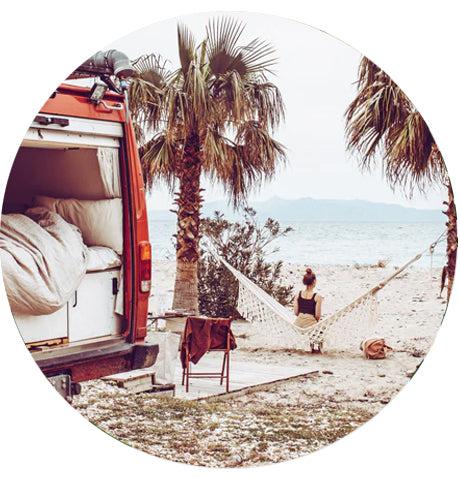 How big of a hammock do you want?
Our Single Hammocks are very generous and are what most of our competitors call doubles. Our Double Hammocks will comfortably accommodate 2 adults whilst our Family/XL Hammocks will take three or more adults easily.

On each of our product pages, we have specifications that show the lying surface. This is the total space available for occupants to lie on. We also have load capacity which details the maximum weight the hammock can take. All worth keeping in mind when choosing the right size hammock.
For some reason, all I can picture right now is going camping in a 4X4 and dragging those huge set it up yourself beds, that take up half the boot space. Well, now you and I can both forget those elaborate 4X4 style beds that can cost you a bit for that camping trip you've been longing for. What if I told you, go get a Double hammock, pack your clothes, essential food items and other necessities and you're set! Yes, hammocks have evolved since the last time you thought you'd seen it all. Read Here
Yes, you heard (or read) that right, we're packing a hammock for our trip to India this weekend. No, it's not to parachute off the plane, although it is made from parachute silk, but if we're taking the necessities why shouldn't we take our hammocks too? Read Here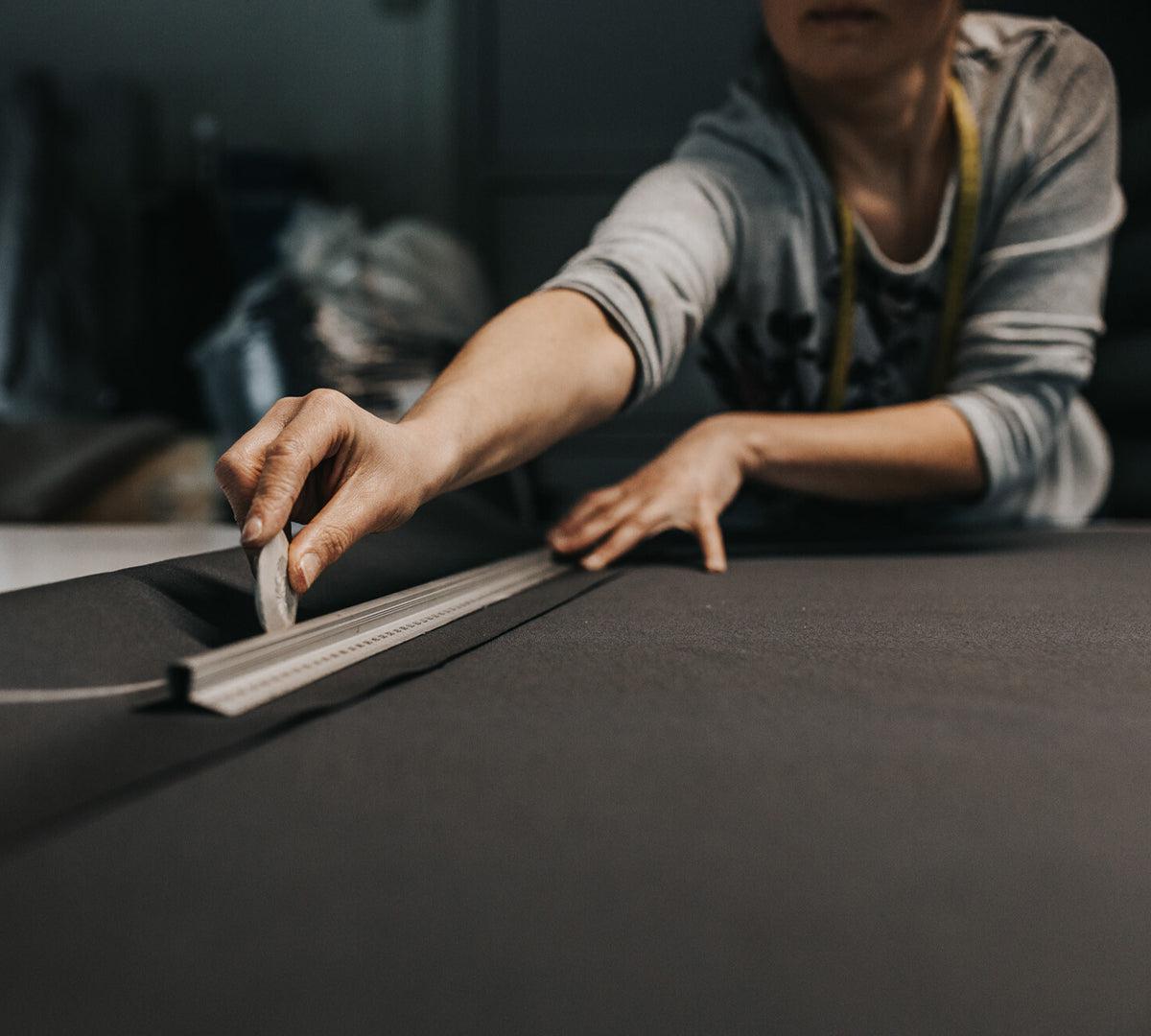 Recycled Brazilian Cotton
Cotton is a natural fibre that is soft and breathable. It is comfortable to lie in, even in hot weather. Cotton is also absorbent, so it will keep you cool in the summer and warm in the winter. Cotton hammocks are usually more expensive than nylon hammocks. They are also heavier, so they are not as convenient to take with you when you are travelling. Cotton hammocks should be stored indoors when not in use to prolong their life.
View Cotton hammocks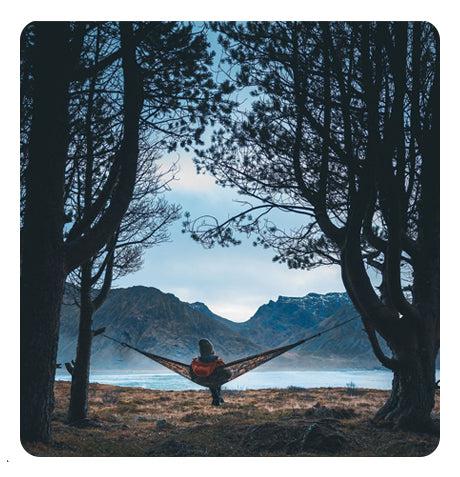 Parachute Silk Nylon
Nylon is a synthetic fabric, which means it is made from petroleum products. It is a strong and durable fabric that is resistant to mildew and rot. Nylon is also quick-drying, so it is a good choice if you are using your hammock near water or in a humid climate. Nylon hammocks are usually lighter than cotton hammocks, so they are easier to carry with you when you are camping or hiking. They are also less expensive than cotton hammocks.
View Nylon Hammocks
Elltex & Agora
The top of the hammock material hierarchy. This material is scientifically created to have extremely high levels of weather resistance, therefore, will protect you from light showers, mildew, and UV bleaching. This means that you are able to leave your hammock out that bit longer, though we do suggest that you whip it down every now and again to ensure that no ice has formed upon it.

View Elltex Hammocks
Spreader vs non-spreader bar
style of hammock
Spreader Bar Hammock has a wooden pole which spreads out the bars at each end and gives the hammock a flatter profile. Some people prefer the look of these but they can be trickier to get in and out of because the material is so taut. 

None Spreader Bar Hammocksor Classic Hammocks do not have a wooden pole which means there is more fabric so you can move around easier. On a windy day you can even use the fabric as a blanket, or turn you hammock into a make shift chair to sit upright in and they are usually a lot easier to get in and out of. If you are planning on sleeping in your hammock then a None Spreader Bar Hammock is more comfortable as you can sleep in a traditional diagonal position. 

There are many different fixings and ways to hang a hammock. It can go between two well spaces trees using our adjustable fixing ropes, on one of our sturdy stands, or it can be fixed to walls or posts. We even have a special stand for people that only have one tree in their garden.
All our hammocks can be left outside, but some materials are better than others for repelling rain and sun fade. Hammocks made from 100% polyester, parachute-silk, or Elltex can all be left outside, although we still recommend bringing them in to dry to prevent mould. Our Brazilian cotton hammocks ideally should be kept dry. Learn more
All our hammocks are tested beyond the weight capacity we advertise. But, we still recommend using it as a guide when purchasing. We have categorised our hammocks into single (one person), double (two person) and family (2+ people). When ordering a hammock and fixings/stand together, ensure the capacities are suitable for your use.

Not at all, once you are in the hammock it is very safe. We sell thousands of hammocks and rarely hear of any incidents and some of our happiest hammock users are people over 60. Hammocks are comfortable, and relaxing and sadly have a notion that they are difficult to get into. This is not the case.